Guest Bath Update is done for less than U$60! :)
Hi there!
Finally, it's done! For now.  :)
I tried to use everything I already had around the house. This was just an update though.
It came from this (notice the odd space underneath the sink):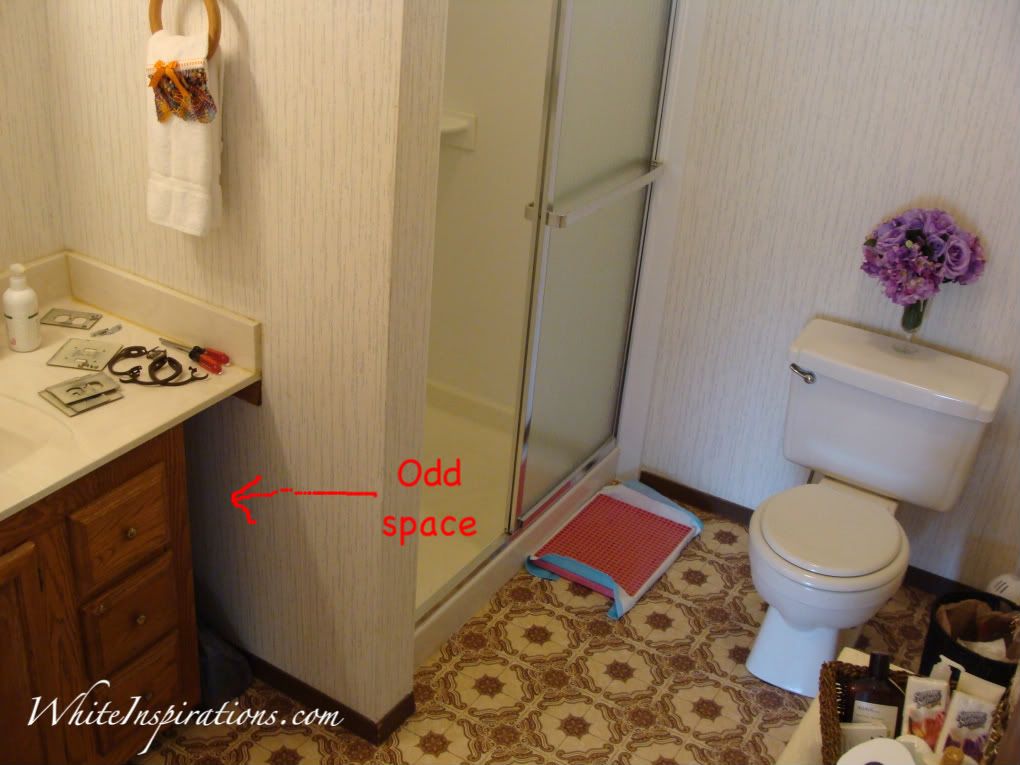 By the way, the pink tray is Sophie's Bathroom.  :)
Now, pictures from the Guest Bathroom updated.
TA-DA!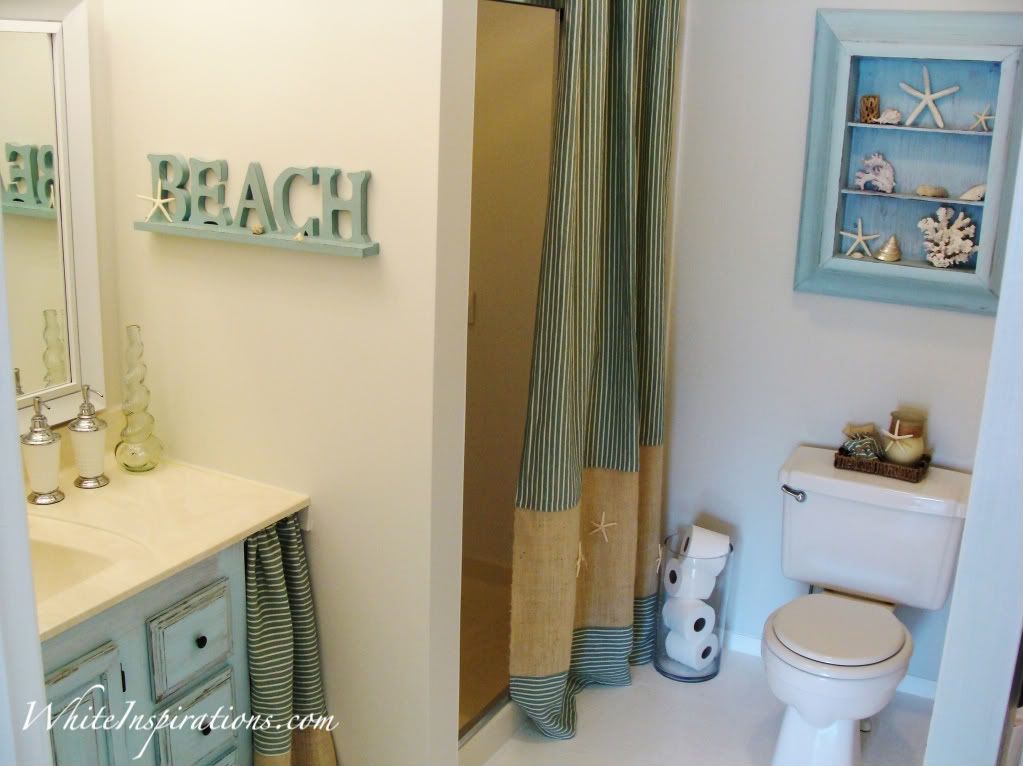 Wallpaper removed. Glue removed. Painted everything, including the linoleum. There is more here.
And there is more here about the medicine cabinet turning into Beachy Display.
This is how the odd-space-issue was solved with some U$ 4/yard  fabric (Hobby Lobby), burlap and velcro: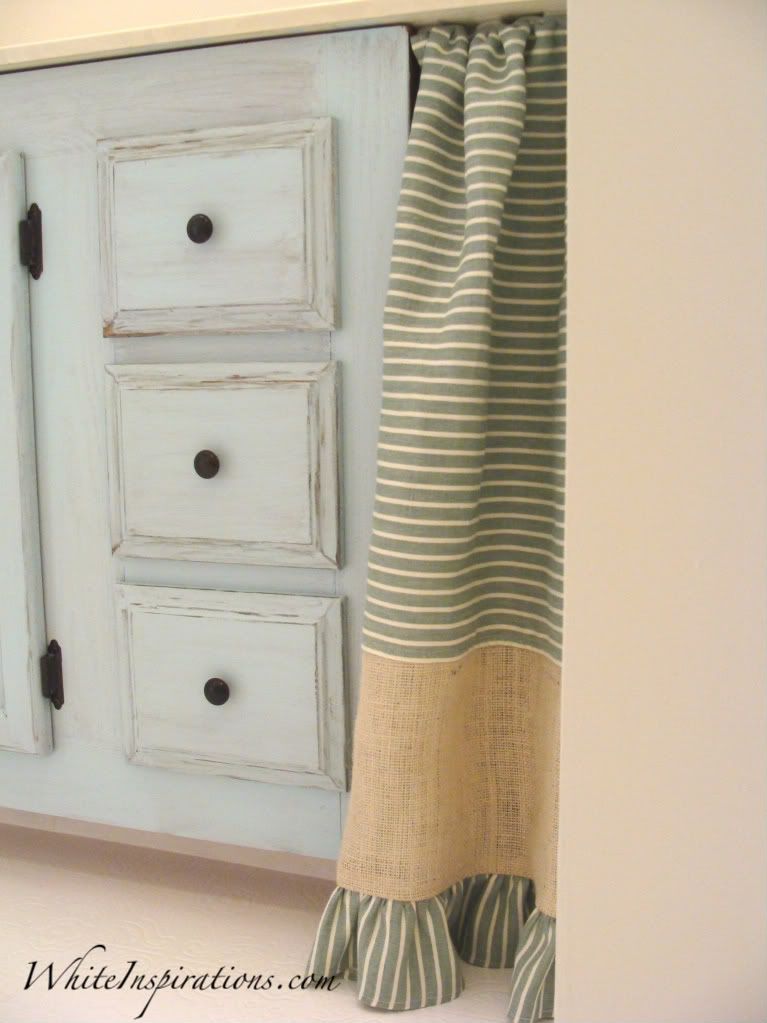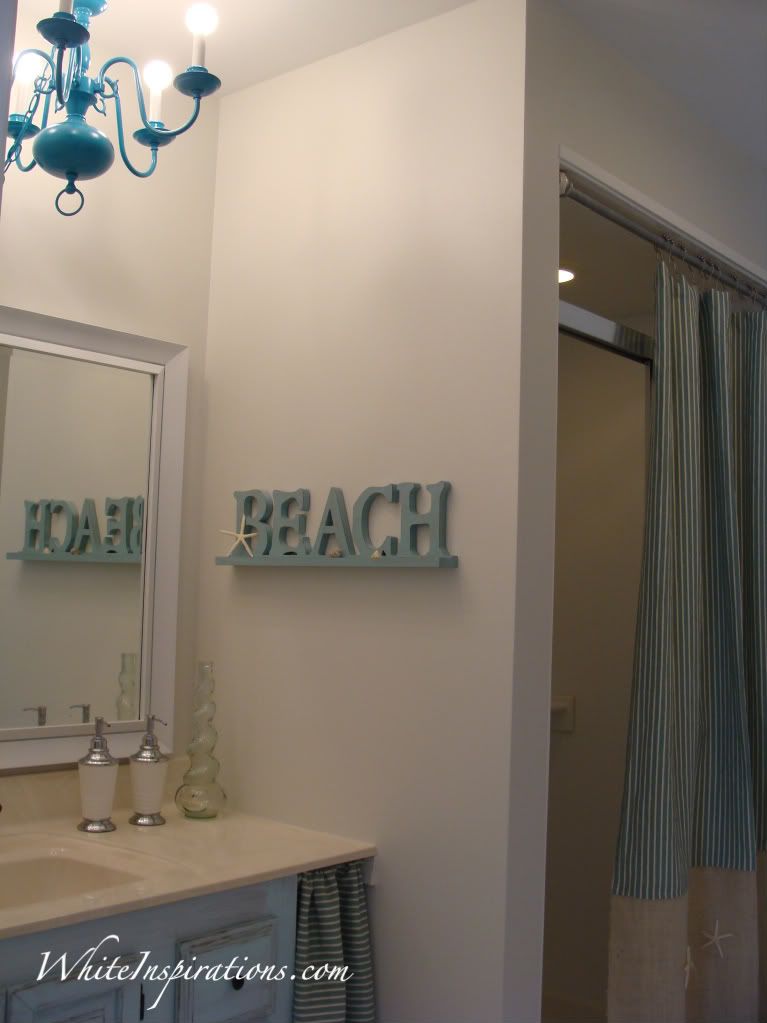 Oh, notice the U$10 turquoise chandelier.
Now, it's more pleasant to the eye.  :)
Project Cost:
We already had all paints (from other projects) for wall, floor, ceiling, cabinet…
"new" mirror: already owned.
U$ 10 chandelier (Goodwill)
U$ 4 spray can
U$ 13 DIF
U$ 13 Fabric (Hobby Lobby)
U$ 12 Beach Sign (TJMAXX)
~~~~~
Brazilian Portuguese Translation
Oi pessoal!
Finalmente, está pronto! Por enquanto.  :)
Tentei usar tudo o tínhamos disponível pela casa. Este foi só um update na verdade.
Partiu disso (note que tem uns espaços esquisitos debaixa da pia: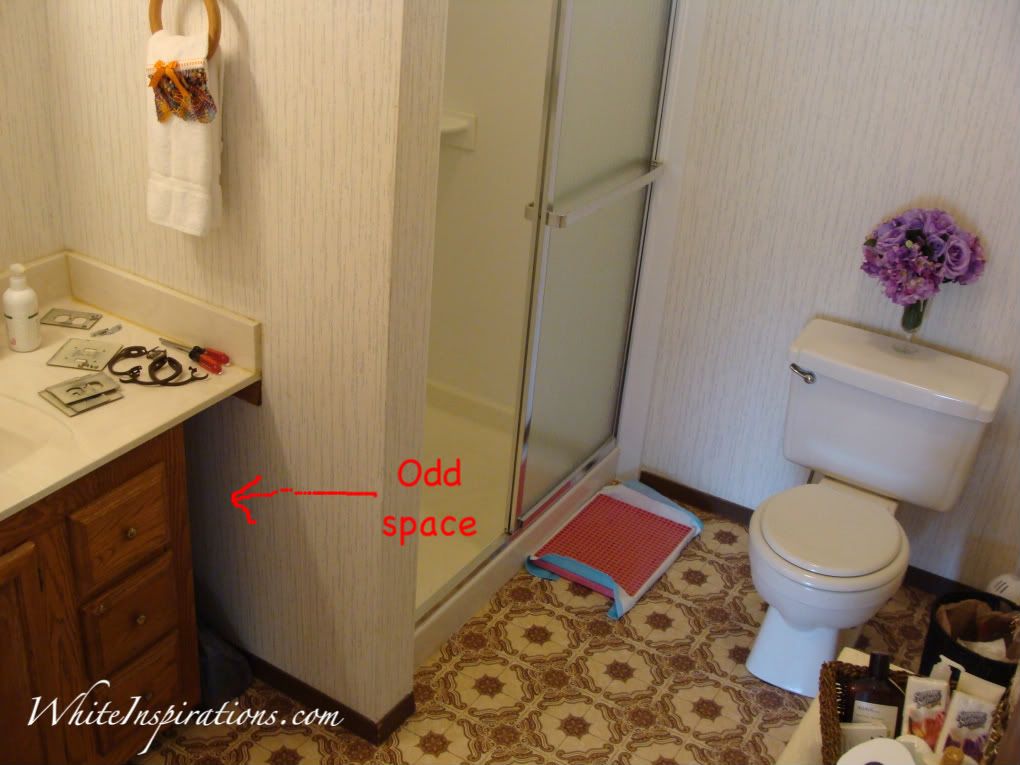 A propósito, a bandeja rosa é o banheirinho da Sophie.  :)
Agora, fotos do banheiro de hóspede renovado.
TA-DA!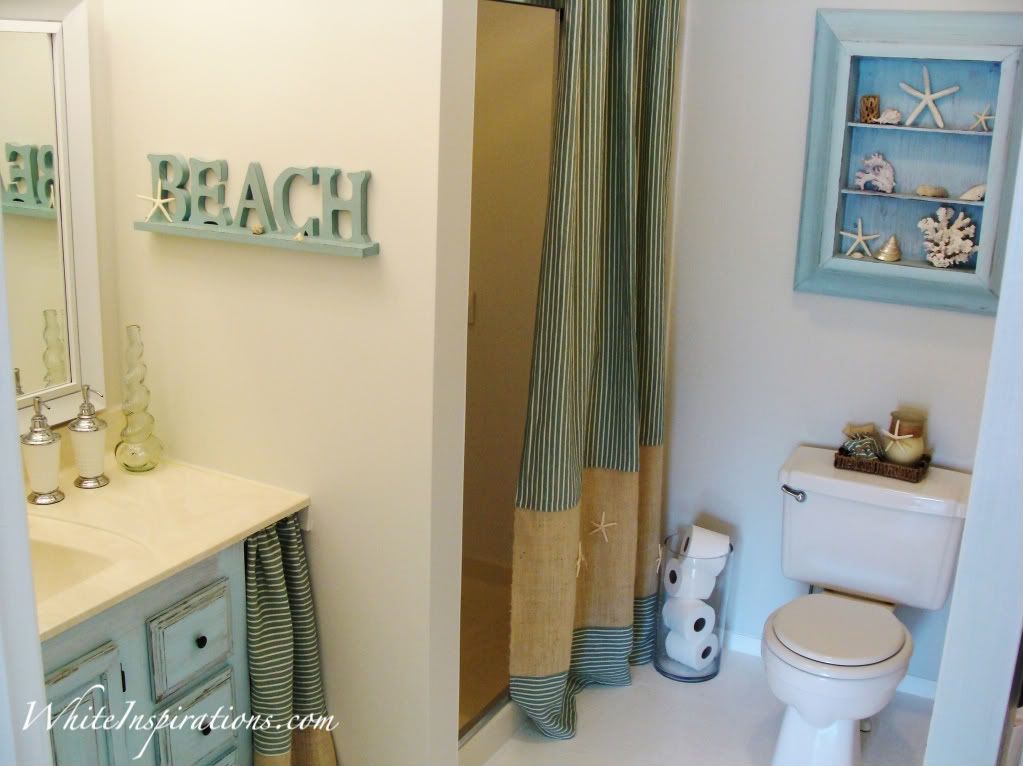 Papel de parede removido. Cola removida. Pintei tudinho, incluindo o chão. Tem mais sobre isso aqui.
E tem mais aqui sobre o armário que virou Display.
Assim que o problema daquele espaço esquisito foi reslvido: com tecido de U$ 4/por yard (Hobby Lobby), juta e velcro: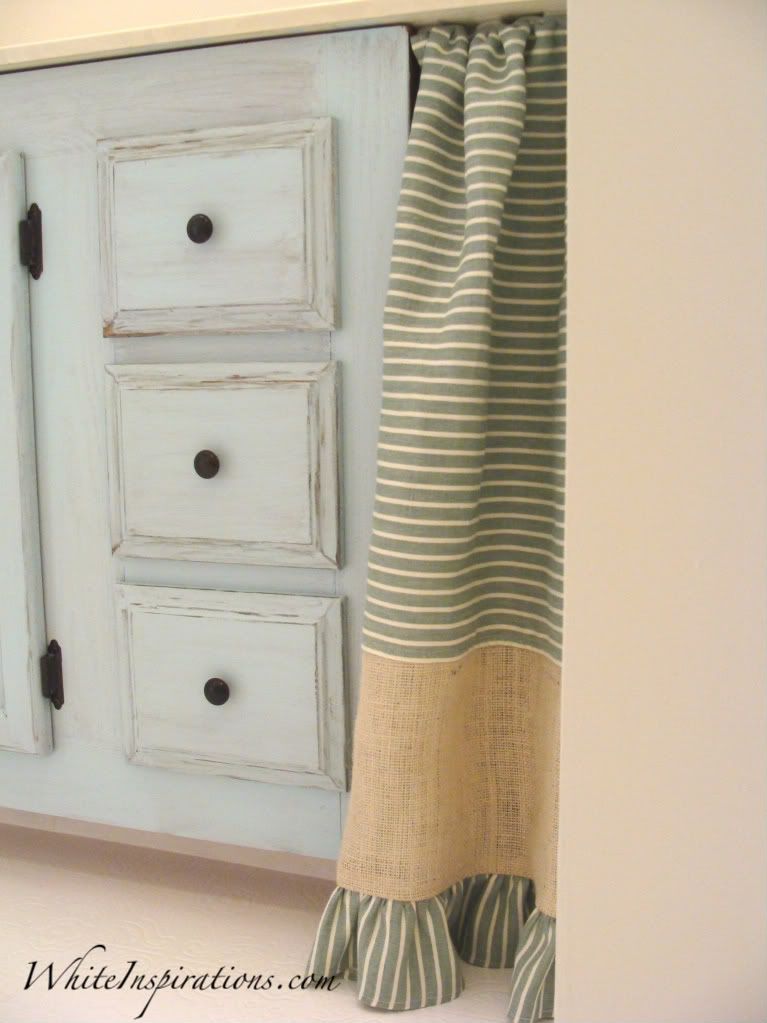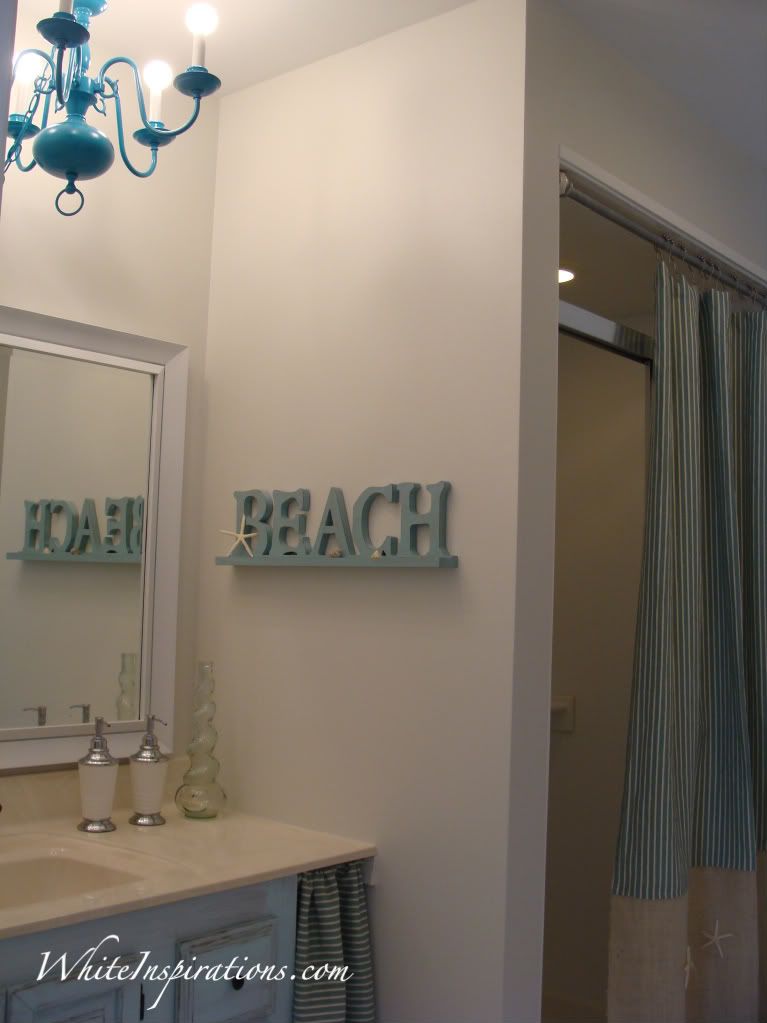 Ah, dê uma olhada no lustre azul turquesa.
Agora sim, está mais agradável.  :)
Custo do projeto:
A gente já tinha todas as tintas (de outros projectos) para as paredes, chão, teto, armário…
Espelho "novo" já tínhamos.
Lustre de U$10 (Goodwill)
Tinta em spray U$4
DIF (para remover cola do papel de parede) U$13
Tecido (Hobby Lobby) U$13
Sinal "Beach" (TJMAXX) U$12
&nbsp Other Inspirational Posts: