Queen Anne Bench Revisited
Revisited. Redone. Makeover. Transformation. A bench has been brought to life.
Fact is that it's chic and better than before.  :)
It used to be this sad little piece that I'd cover with throws to hide all the ugliness…
Repaginado. Refeito. Reconstrução. Transformação. Um puff com braço voltou a ter vida.
Fato é que ficou chic e melhor do que antes.  :)
Costumava ser esta pecinha triste que eu insistia em cobrir com mantas para esconder a feiúra…
Now, it became this bold piece with no shame to show its new "skin".  :)
Agora, virou esta peça atrevida sem nenhuma vergonha de mostrar a nova "pele".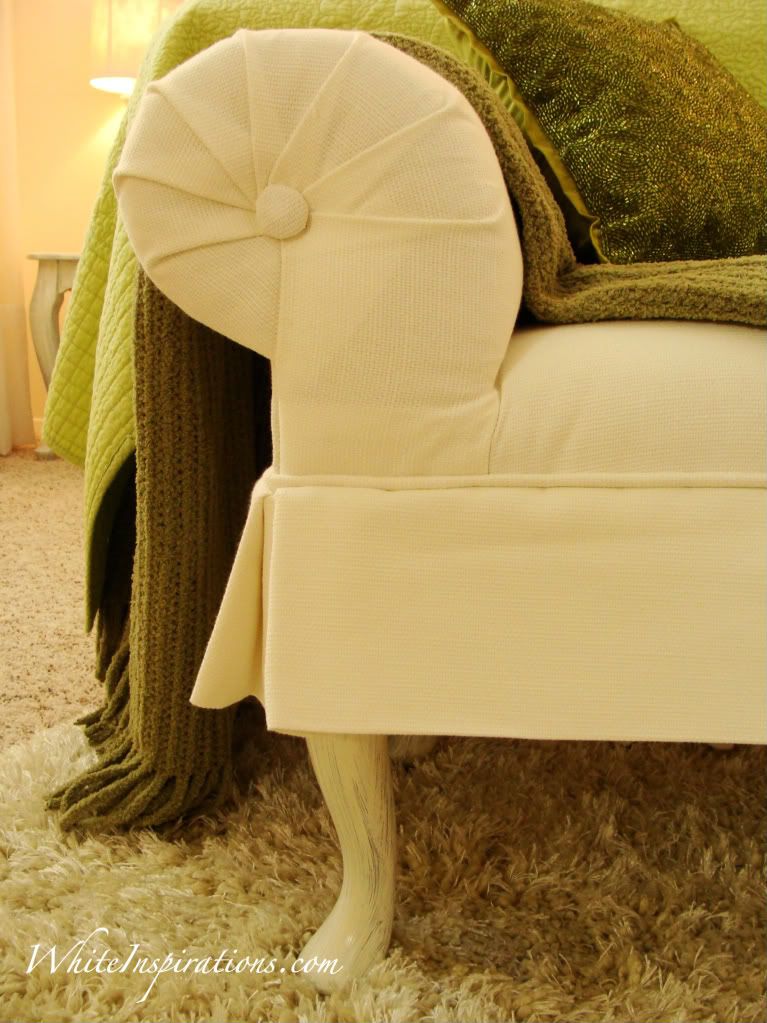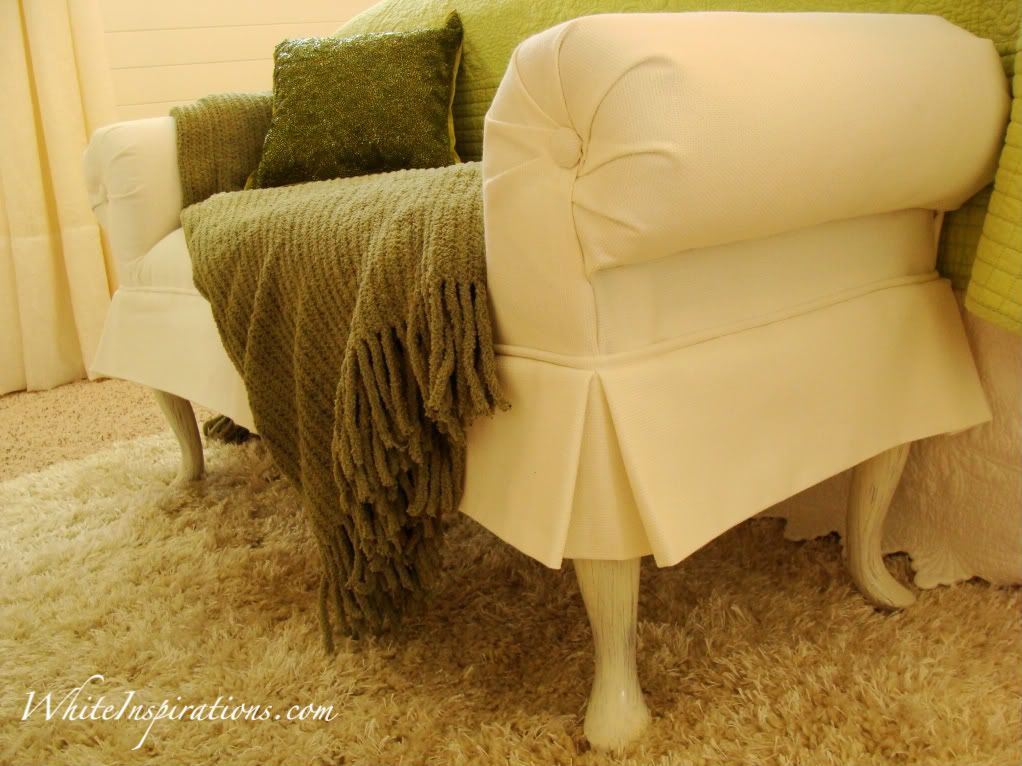 I'll show you the step-by-step of the plastic surgery.  :)
This was my first project upholstering something. I gotta tell you that taking pictures as I was removing things was great to remind myself what was it and where to put it.  :)
Ready?
It's going to get ugly…
Ok…
Let's go!  :)
First, taking the legs off.
Vou mostrar o passo-a-passo da cirurgia-plástica.  :)
Este foi meu primeiro projeto de reestofar algo. Tenho que admitir que tirar fotos durante o processo foi ótimo para me lembrar do quê era e onde iria.  :)
Preparado(a)?
Vai ficar feio…
Ok…
Vamos lá!  :)
Primeiro, remover as pernas.
Then, it was a pain to take all those staples from the piece.
Aí, foi a vez de retirar os grampos.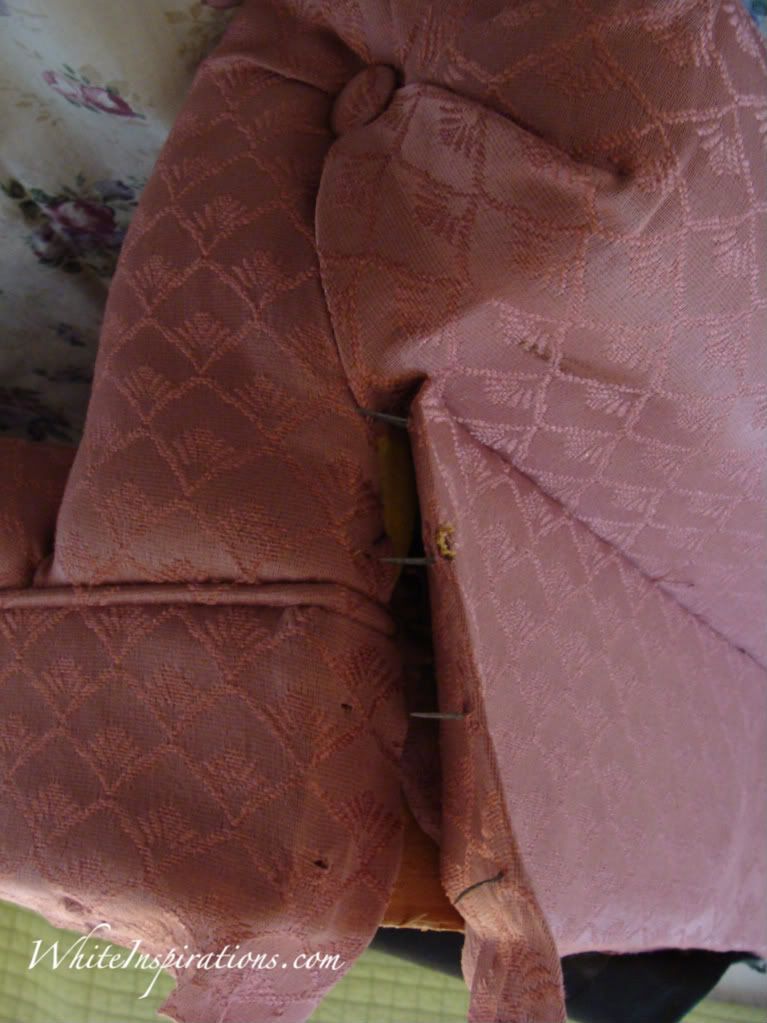 A P-A-I-N. Really.
Triste. Mesmo.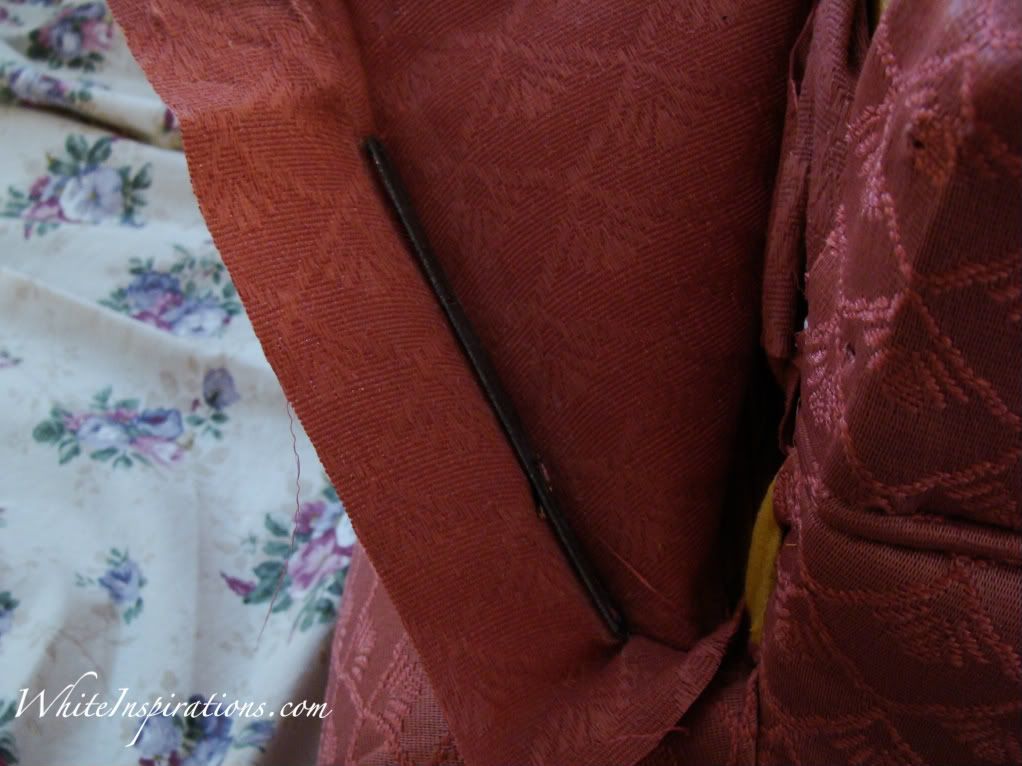 Oh, just make sure to wear gloves in order to prevent blisters or hurt yourself with one of these things.
Ah, use luvas para não criar bolha ou se machucar numa destas coisas.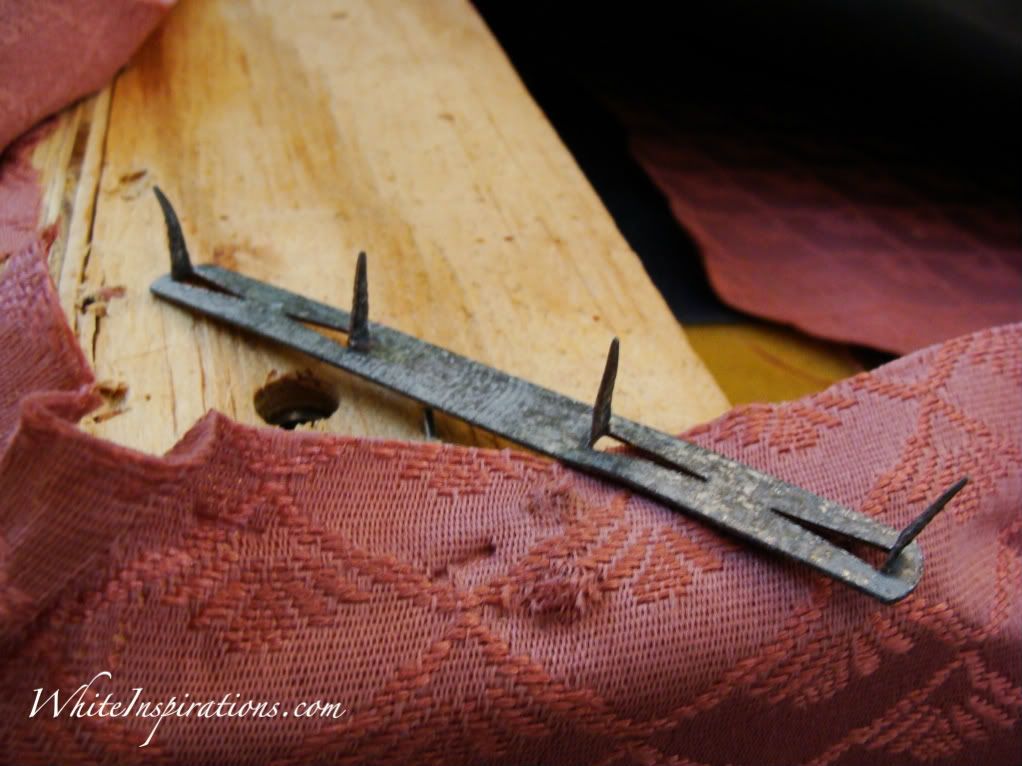 By this time, I knew I was committed and there was no turning back. In fact, thinking like that helped me to not give up.
Neste ponto, sabia que estava, totalmente, comprometida com o projeto e que não tinha mais volta. Na verdade, pensar assim, até me ajudou a não desistir.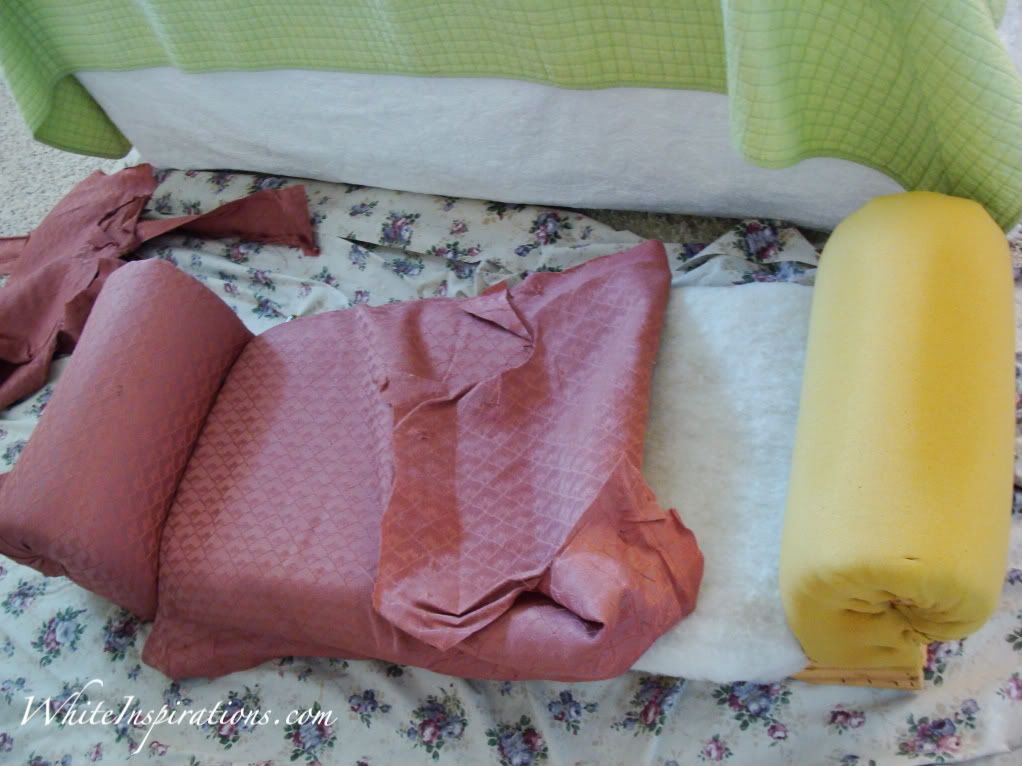 Now, it doesn't get much ugglier.  :)
A partir daqui, não fica muito mais feio.  :)
As you can tell, the belts were sagging. So, I fixed them by reappling the staples and straigthen them.
Como dá para notar, as cintas estavam afundando. Então, fixei-as, novamente, só recolocando os grampos e esticando as cintas.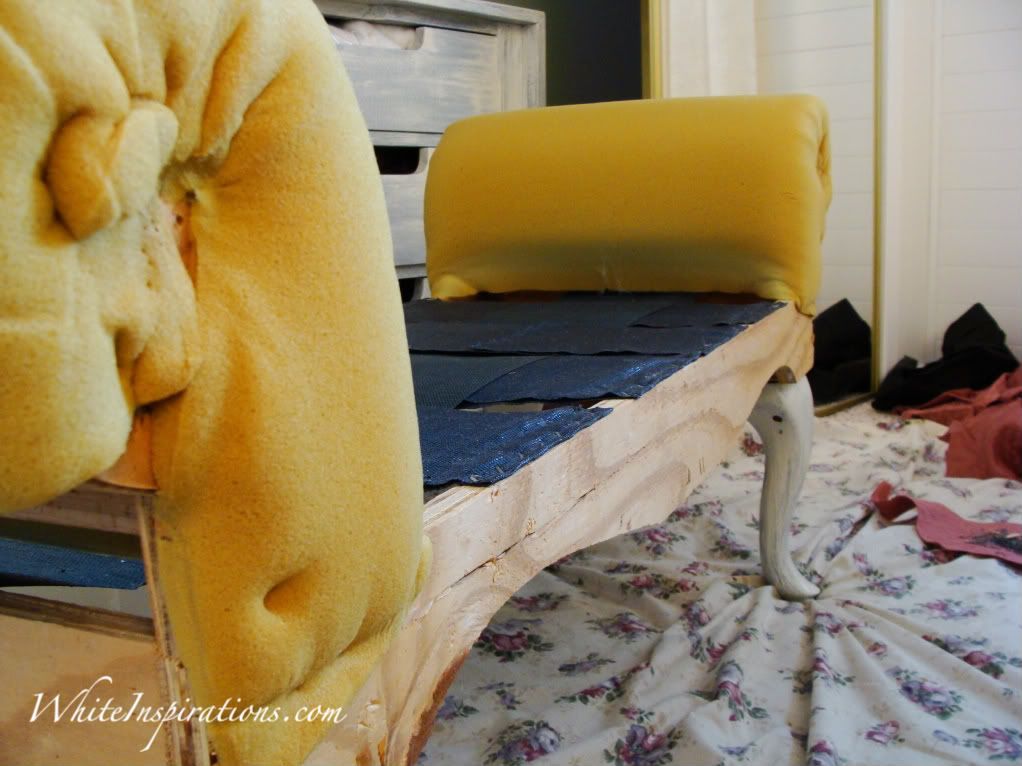 Just a little trick I thought about sharing… Since everything about this project was related to reuse and not waste things / put more garbadge on nature, I wanted to reuse the foam. But, I added a little thin foam piece to give more support to the old foam.
Um truquezinho que queria compartilhar… Já que tudo sobre este projeto é relacionado com reutilização de materias e não desperdiçar coisas / colocar mais lixo na natureza, quis reutlizar a espuma. Mas, adicionei uma tira de espuma para dar mais suporte a espuma antiga.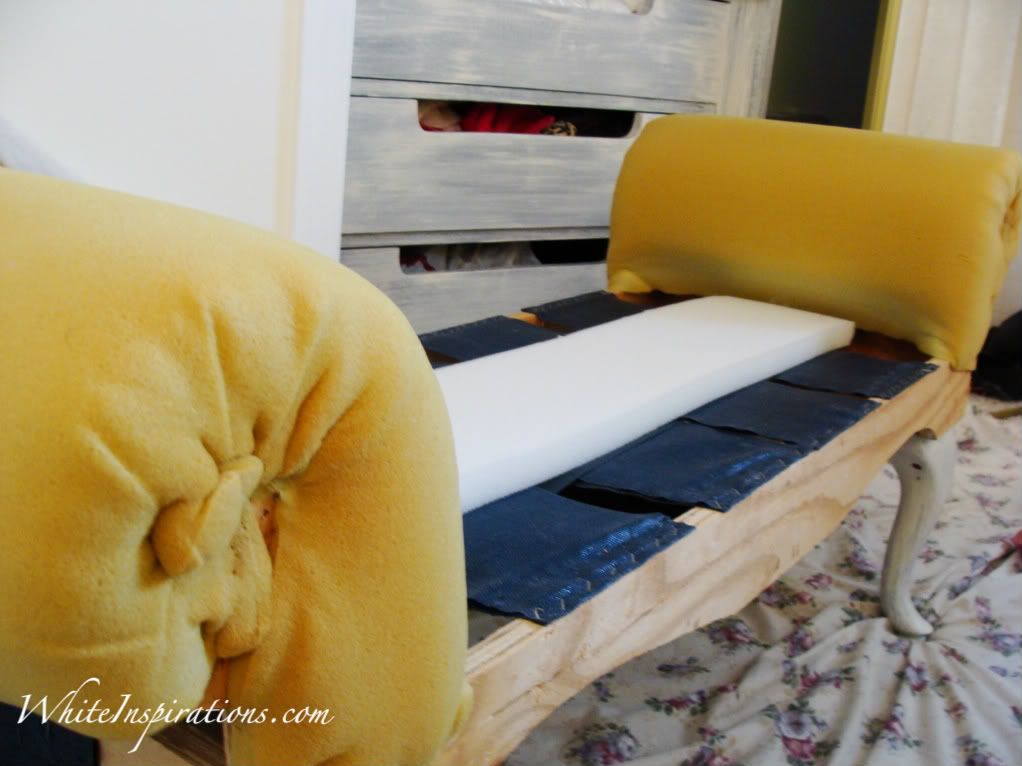 So, I put back the foam and started upholstering the seat. Just got the old pieces of fabric to cut the new ones.
Aí, foi só colocar a antiga espuma e começar a reestofar o assento. As peças do tecido velho serviram de guia para cortar as novas.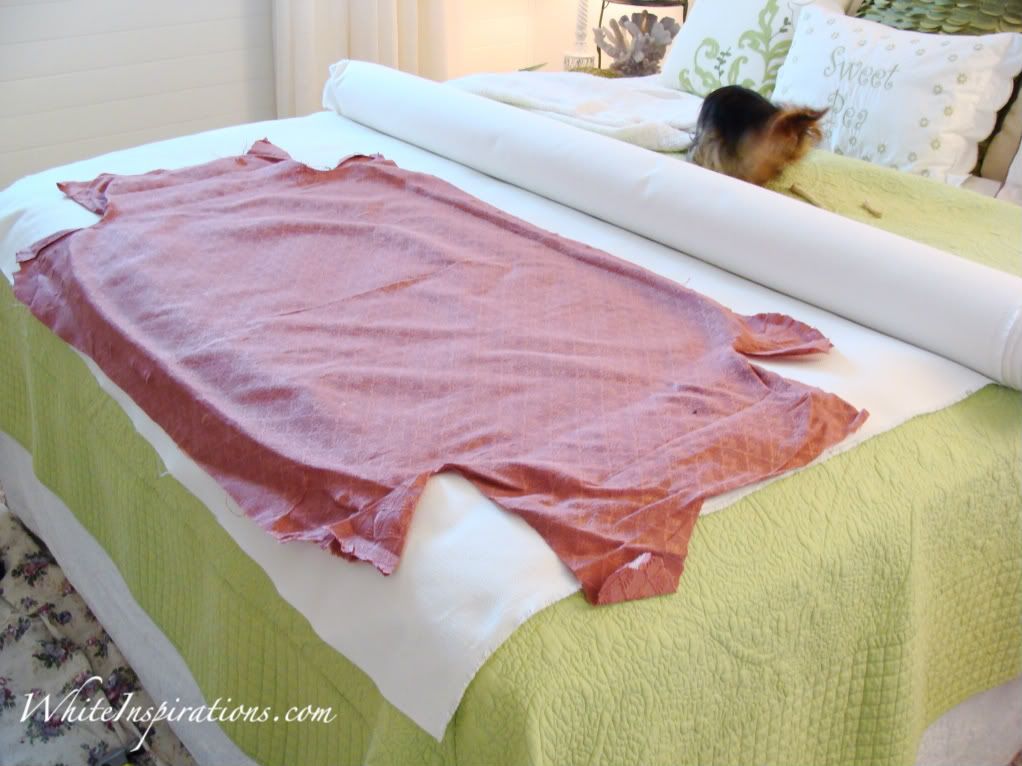 The pleads were a little tricky, but not impossible to do.  :)
As pregas foram meio complicadinhas, mas não impossíveis de fazer.  :)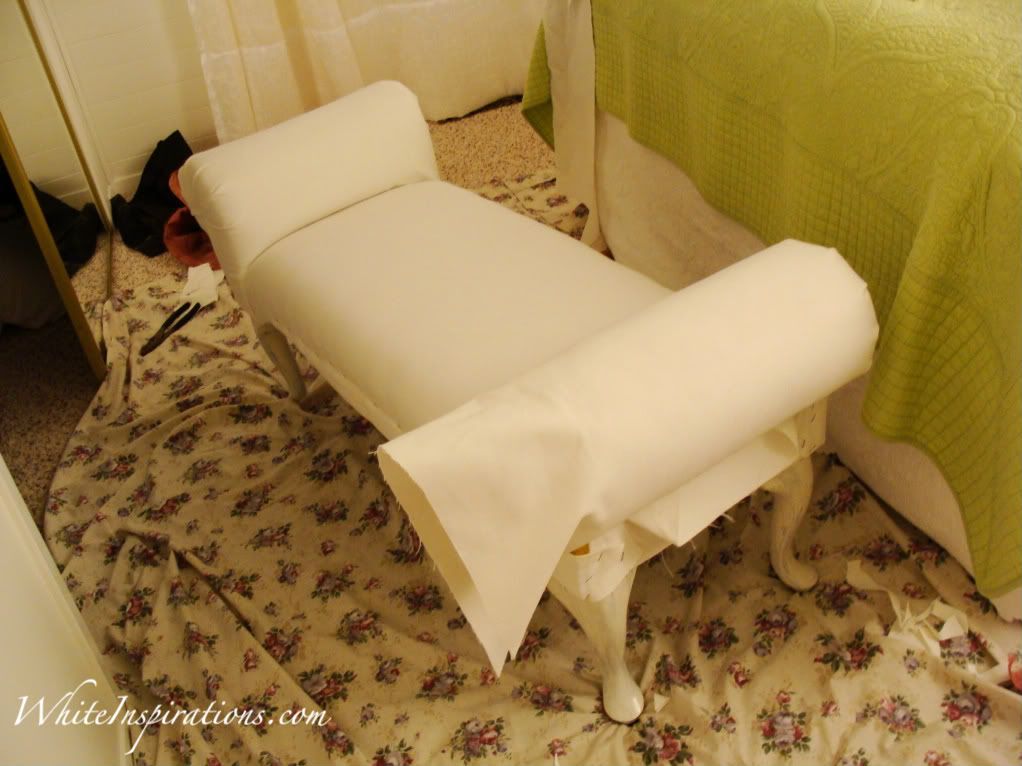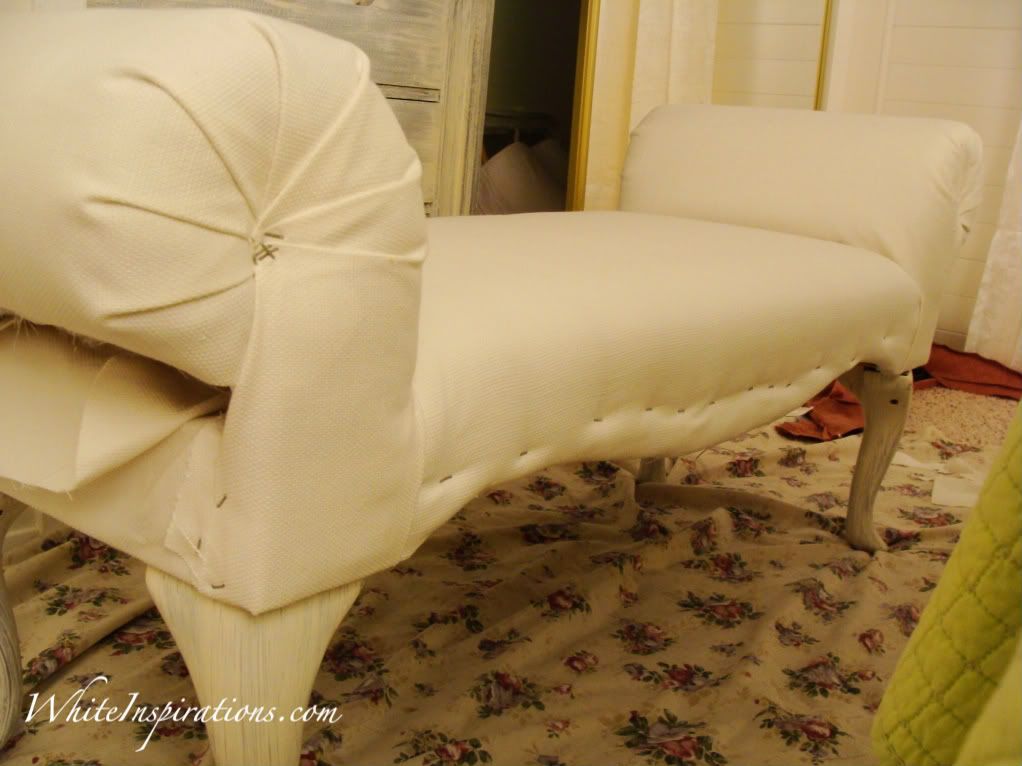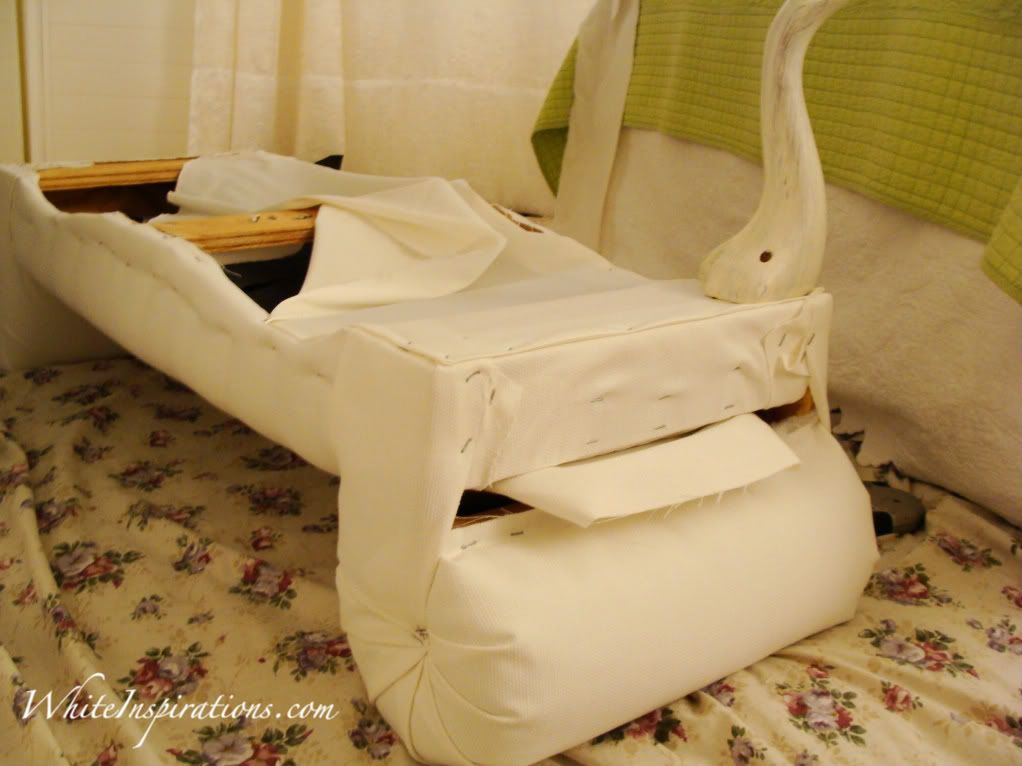 Here, I thought I could put the bottom cover…
Aqui, achei que pudesse cobrir a parte de baixo…
Just to find out I couldn't… So, I had to undo it…  :(
Só para descobrir que não podia… E ter que desfazer tudo…  :(
Putting the cute skirt on with little nails instead of staples, to secure it better.
Coloquei a sainha com pregos pequenininhos ao invés de grampos, para dar mais suporte.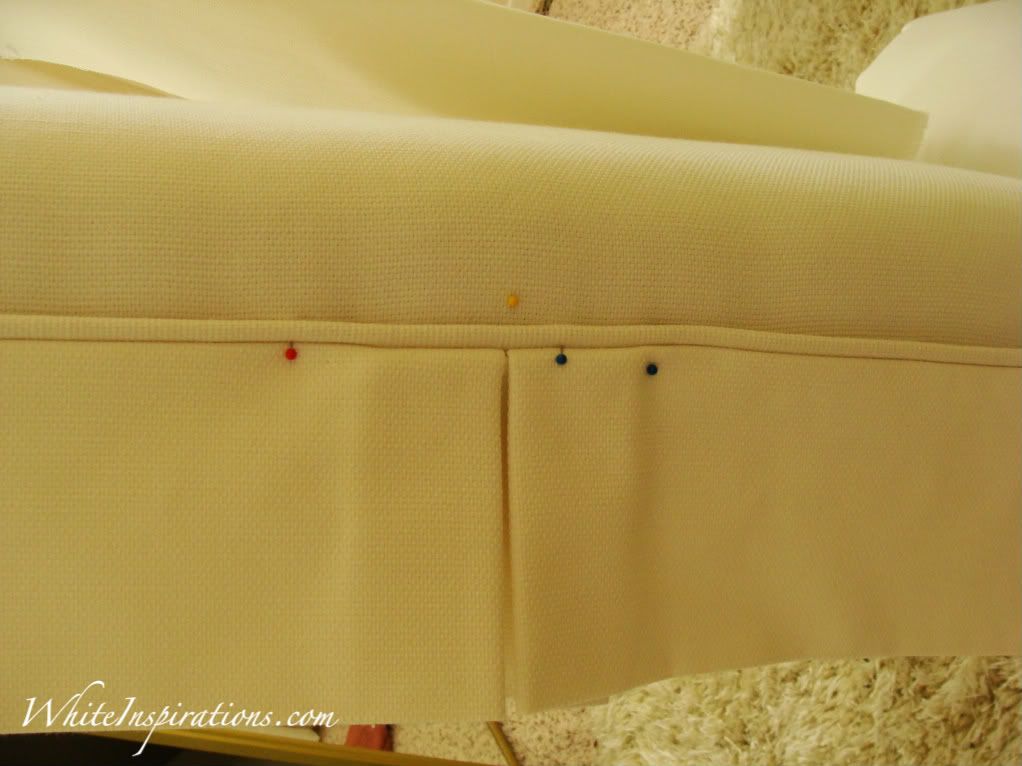 I made some little circles to recover the buttons.
Fiz pequenos círculos para recobrir os botões.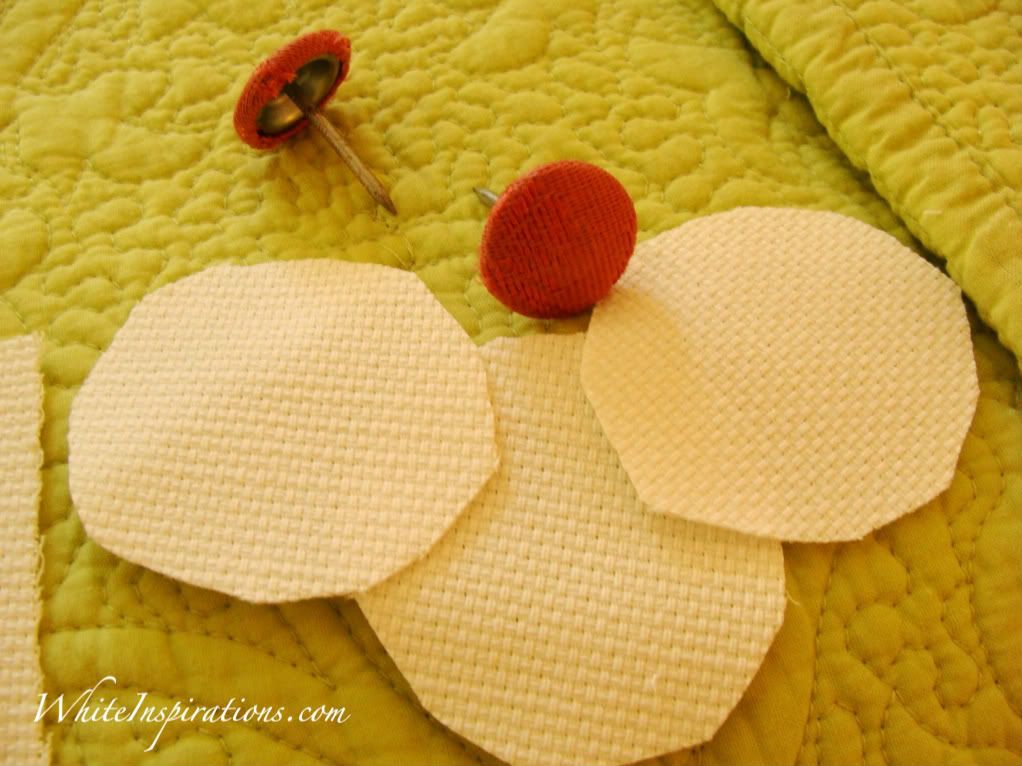 One more thing: I covered the hammer with fabric to prevent get the white bench dirty…  :)
Mais uma coisa: cobri o martelo com tecido para não sujar o puff branco…  :)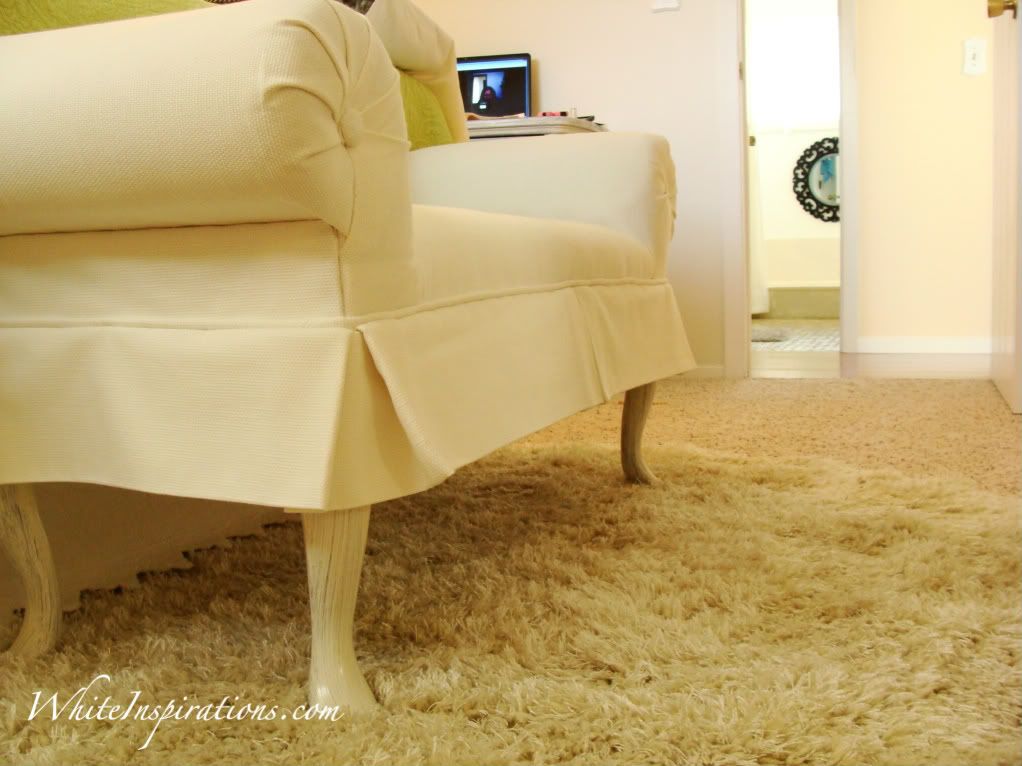 Done!  :)
Pronto!  :)
TA-DA!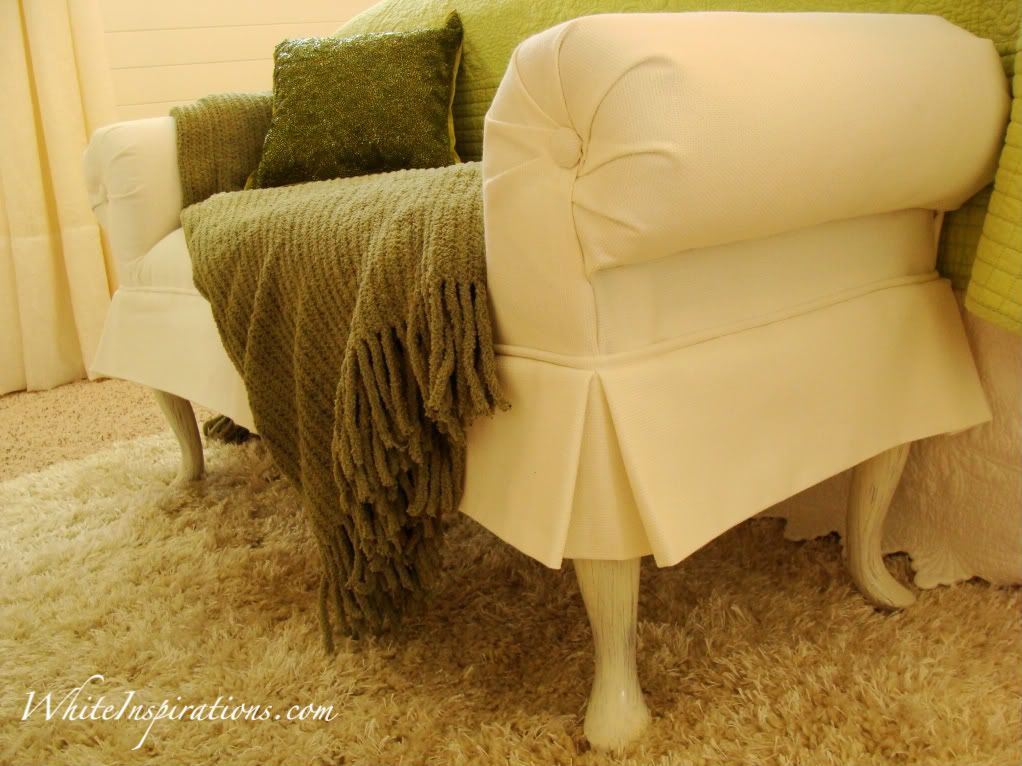 The whole thing cost was U$40.
Bench U$25
3 yards of fabric U$ 15 (U$4.5 per yard, JoAnn had a Red tag 50% sale)
Staples and other materials owned.
O custo total foi de U$40.
Puff U$25
Menos de 3 metros de tecido U$15
Grampos e outros materiais já adquiridos anteriormente.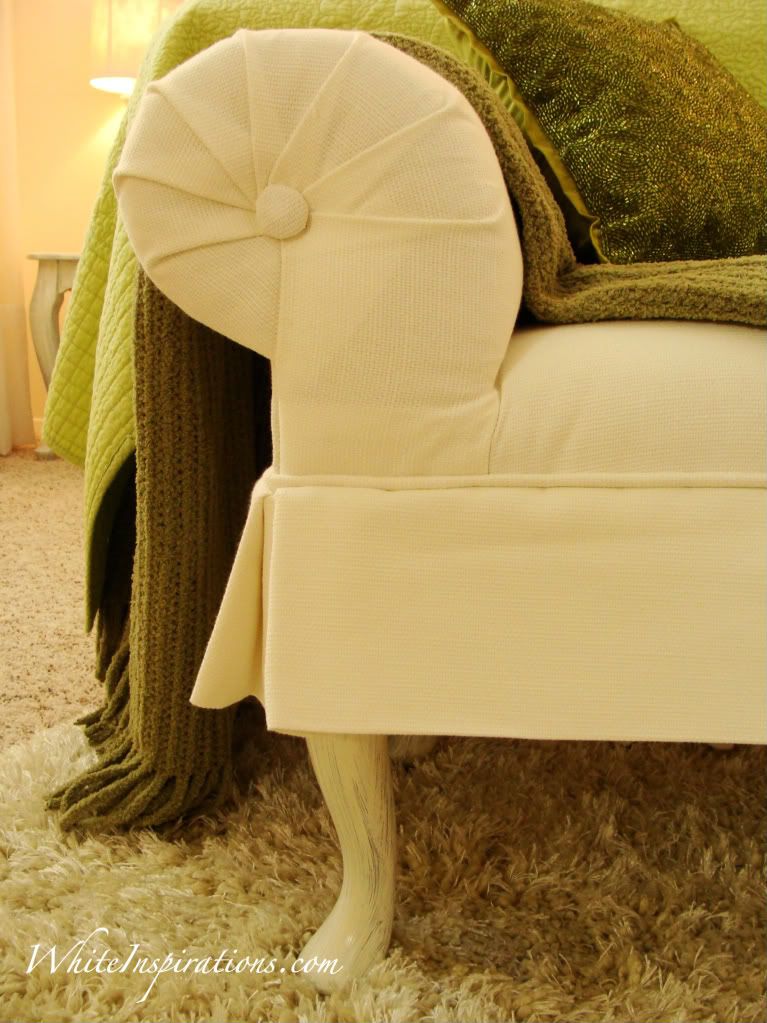 Are you inspired to try it out?  :)
Ficou inspirado(a) para tentar?  :)
Linking to:
&nbsp Other Inspirational Posts: