We have a headboard! YAY
Hey there!
One more project done! YAY
I can't tell enough how much happy I am!  :)
I'll let the pictures explain.  :)
Bill did the though part. Thanks, baby!  :)
Don't be scared. This is only our garage… heehee  We'll get there…  :)
I used 4 of these foams (with 40% coupon).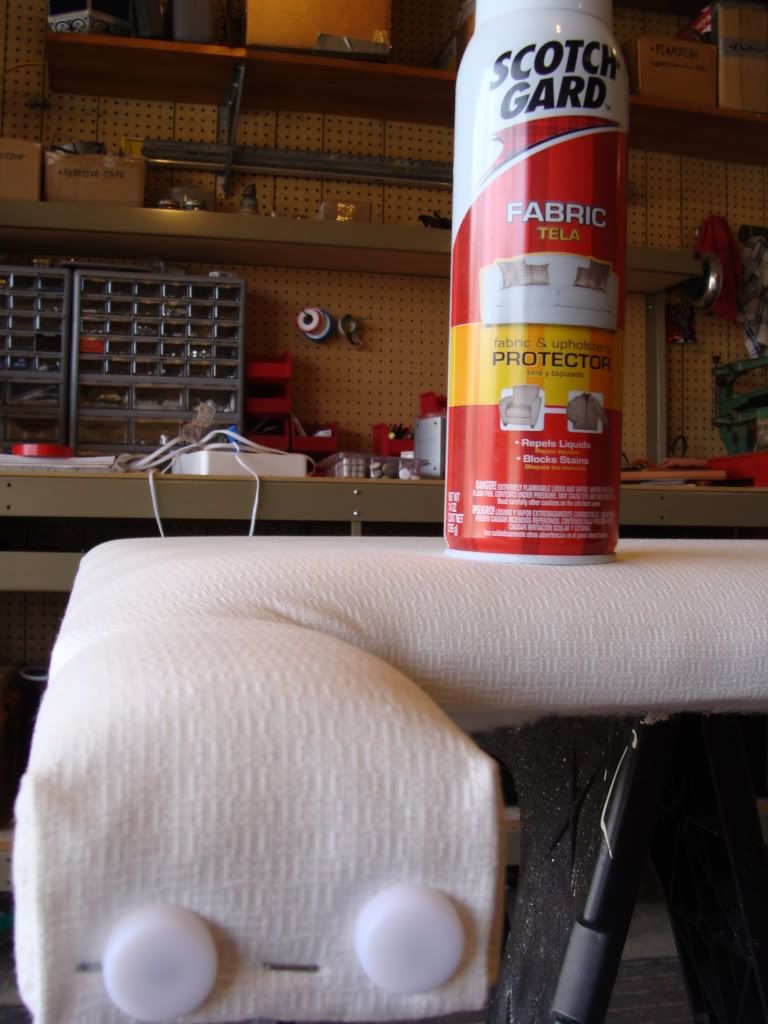 After upholstering, I applied some scotch gard.
By the way, the fabric was a steal! It was a red tag fabric with 50% disccount = U$4.50/yard. Love it!  :)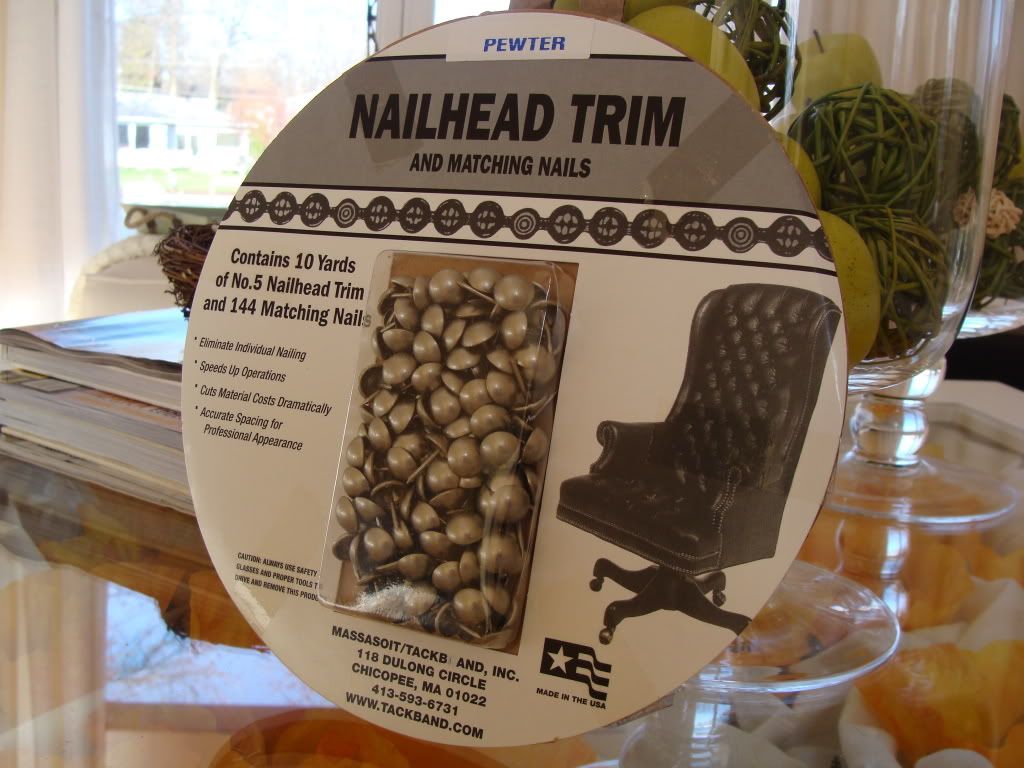 This is one of those things I gotta be happy and thankful about: nailhead trim!  :)
This is the guest room headboard. Hey, mom and dad, you'll have a headboard in our home!  :)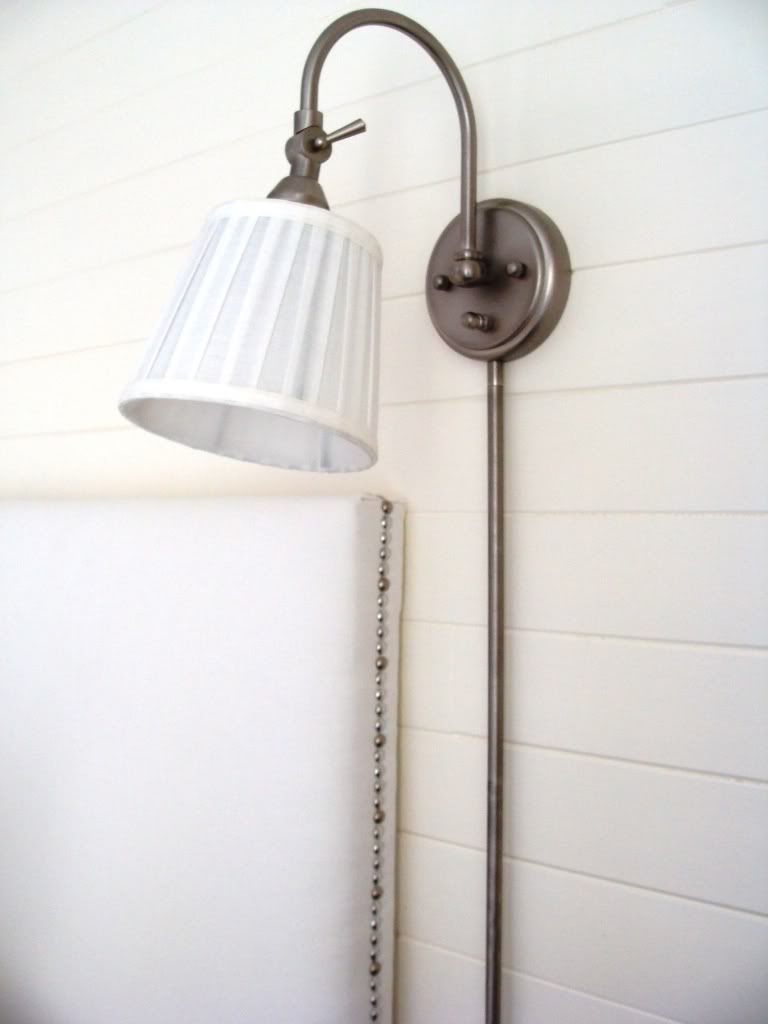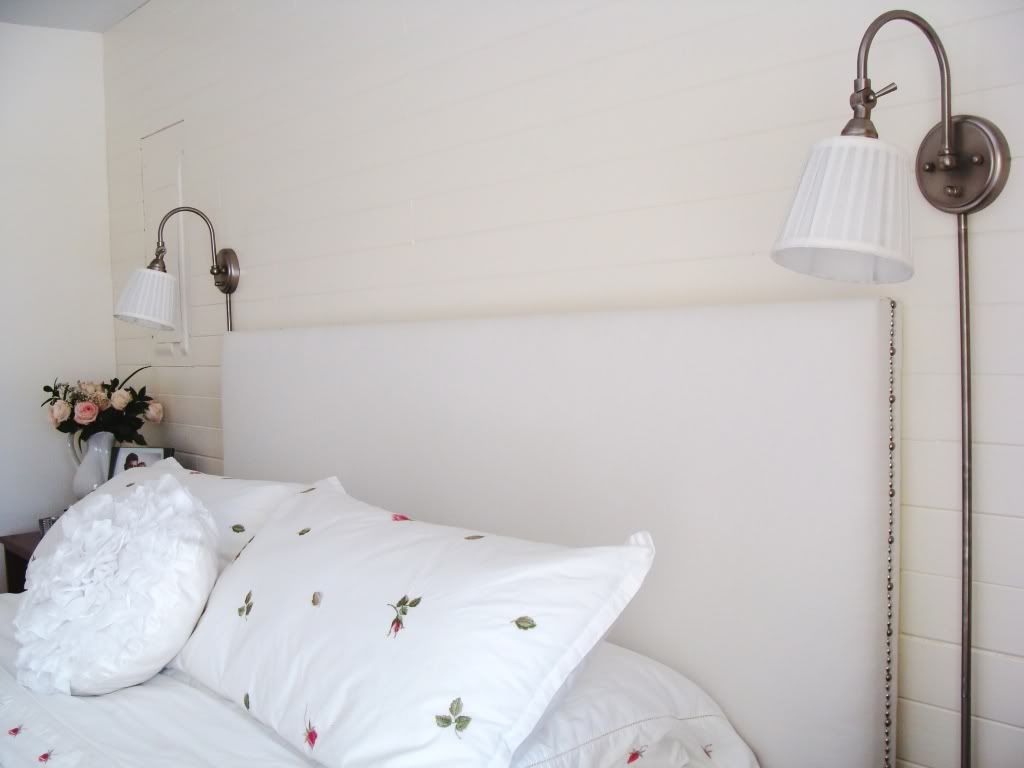 Ahhhh… accomplished! Two headboards, one king and another, queen. I got the measurements from Pottery Barn website.  :)
Let's run the numbers, shall we?
So, for both headboards (one queen and one king) we got:
2 Plywood 3/4″ (4'x8′): U$ 44
5 Studs 2″x4″: U$13
"D" rings and hooks: U$ 6
5 yards of fabric: U$ 25
4 bags of 1″ Foam: U$ 40 (40% coupon)
Batting: U$10 (with 40% coupon) and I had some extra too
Nailhead Trim: U$28 with shipping
Scotch Gard: we had it.
So, comparing it to some out there that would have cost us U$1400 plus tax plus shipping, U$166 is not bad at all.
That's why I'm smiling so much today!
Our headboards are done! Love it double!  :)
Linking to:
~~~~~
Brazilian Portuguese Translation
Oi pessoal!
Mais um projeto completo! Ehhhh
Não dá expressar quão feliz estou!  :)
Vou deixar as fotos falarem por mim.  :)
O Bill fez a parte pesada… Obrigada, baby!  :)
Não se assuste. É só nossa garagem… rss  A gente ainda chega lá…  :)
Usei 4 pacotes de espuma (com 40% cde desconto).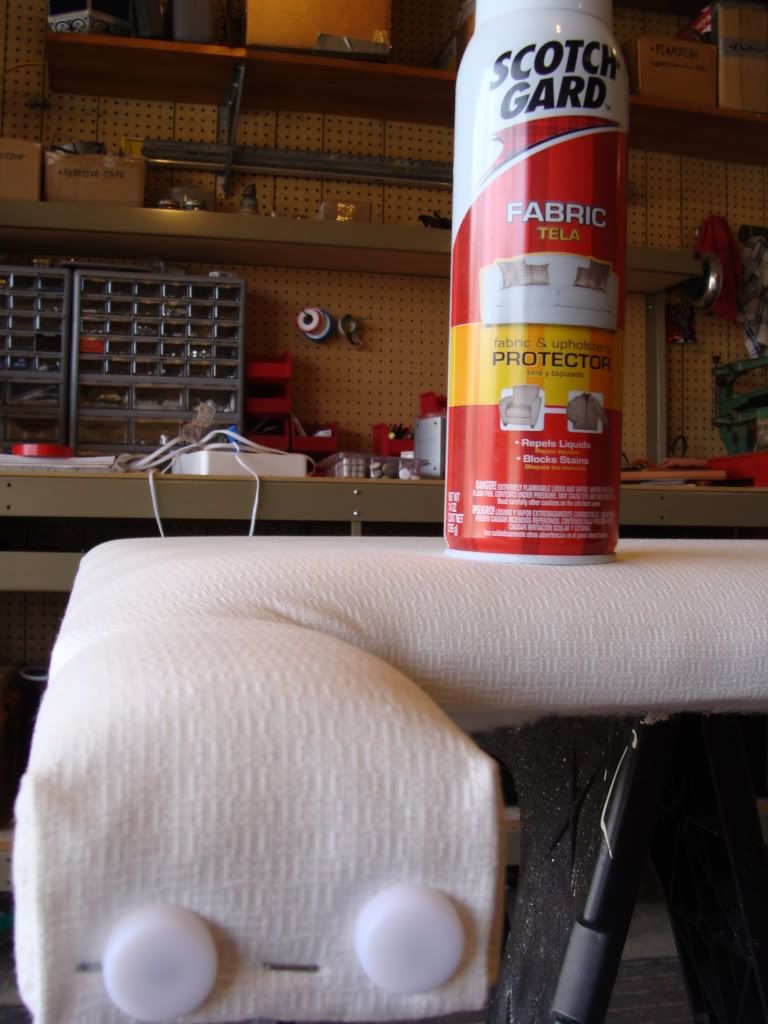 Depois de estofar, apliquei scotch gard.
Ah, o tecido foi um achado! Era um daqueles na seção clearence com mais 50% de desconto = U$4.50/yard. Amei!  :)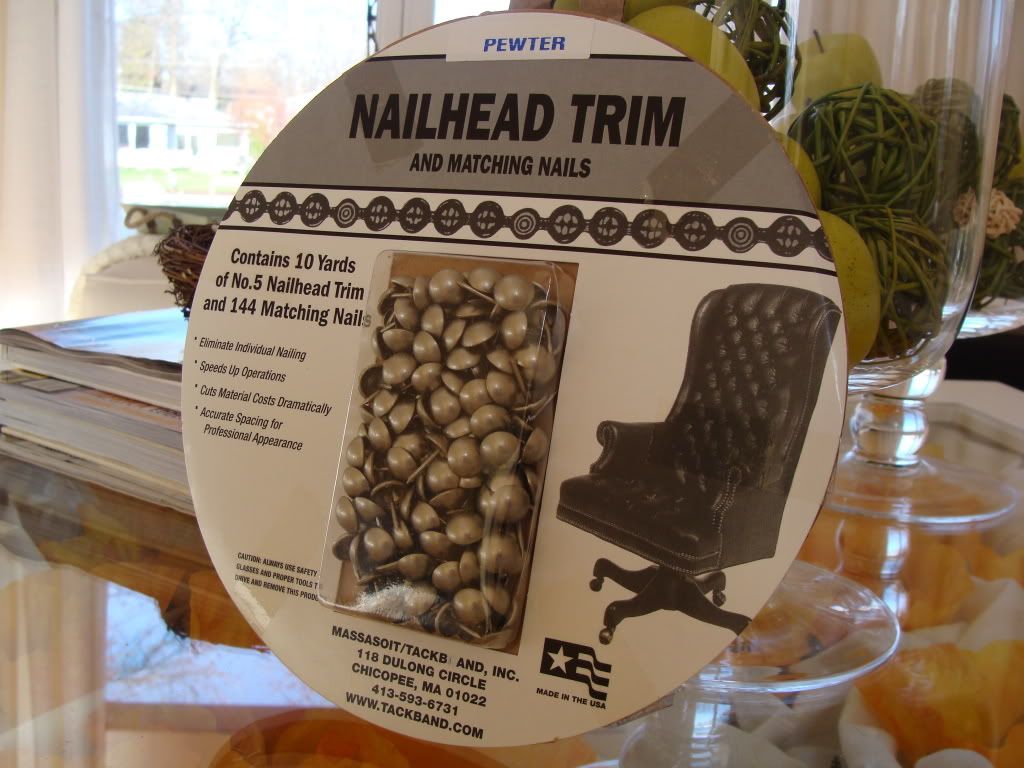 Esta é uma daquelas coisas que preciso agradecer e ficar feliz por existir: tachinha em metro (percevejo de metal)!  :)
Esta é a cabeceira da cama do quarto de hóspedes. Ei, mãe e pai, vocês terão uma cabeceira em nossa casa!  :)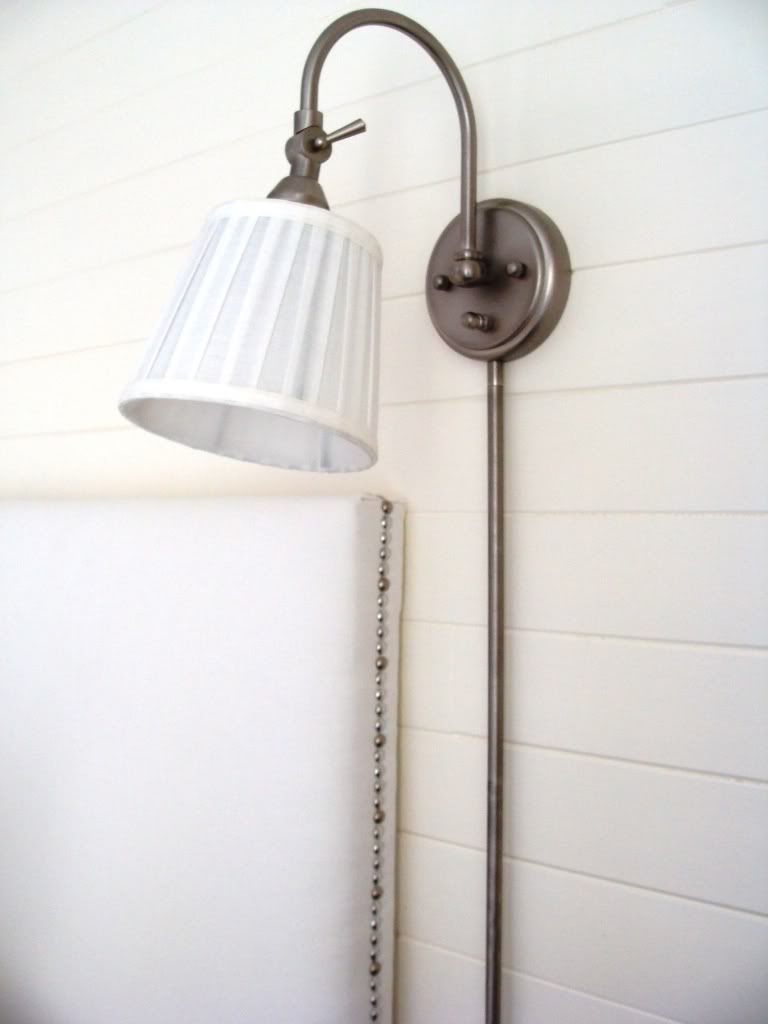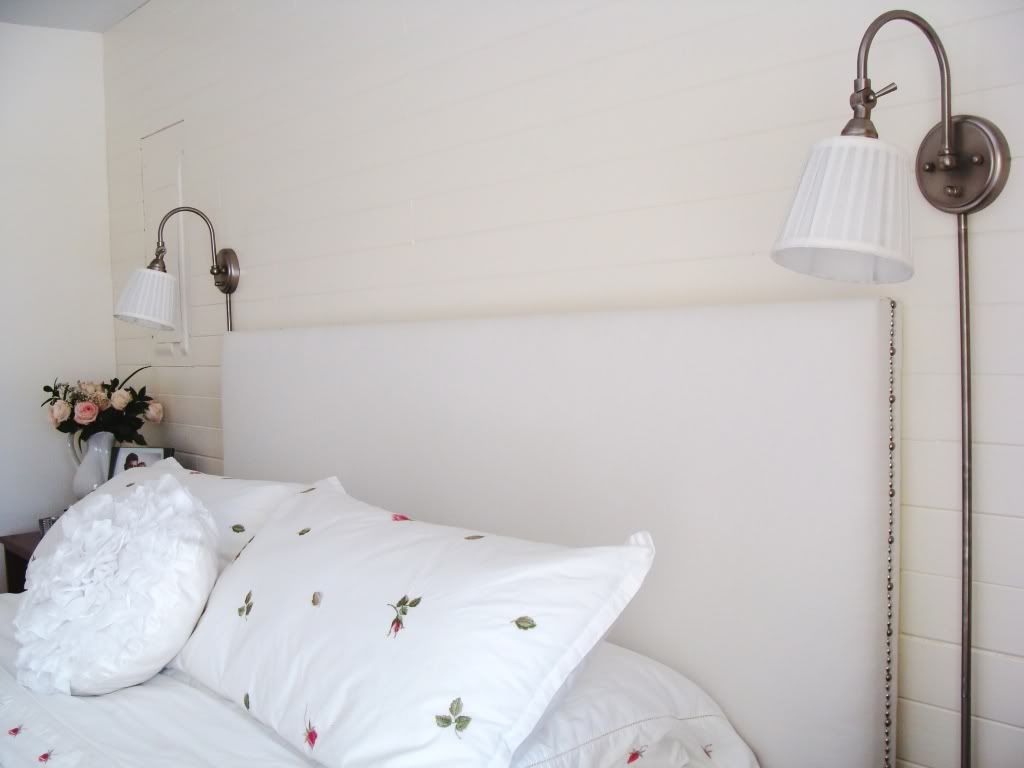 Ahhhh… finalizado! Duas cabeceiras estofadas, uma king e outra, queen. Peguei todas as medidas no site da Pottery Barn.  :)
Vamos analisar os números, certo?
Então, para as duas cabeceiras (queen e king) a gente precisou:
2 unidades de madeira compensada de 3/4″ de polegada (4'x8′ pés): U$ 44
5 postes de madeira 2″x4″ polegadas: U$13
Kit para pendurar quandros (só para evitar da cabeceira cair): U$ 6
Aproximadamente 5 metros de tecido: U$ 25
4 pacotes de espuma de 2,5cm de espessura: U$ 40 (40% de desconto)
Fibra: U$10 (40% desconto) eu tinha um pouco em casa também
Tachinha/Percevejo em metro (10yards): U$28 com taxa de envio
Scotch Gard: já tínhamos.
Comparando com as cabeceiras por aí, que teriam nos custado U$1400 mais impostos mais custo de envio, U$166 não é ruim não.  :)
É por isso que estou sorrindo tanto hoje!
Nossas cabeceiras estão prontas! Amo isso duas vezes mais!  :)
Link com:
&nbsp Other Inspirational Posts: