Merry Christmas!!!
Hi, there!
 Wanna see our Christmas decorations?  :)
For our mantel, I wanted to go with something simple and delicate but elegant.
Inspired by our lovely Pottery Barn, I trimmed a little bit our Christmas tree and spread the little branches over the mantel, got a bird house (from a garage-sale), some starfish and corals, an old bottle of milk (from Goodwill), some lights and voila. Done. That simple.  :) 
 This wreath was a TJMAXX find: fluffy with delicate crystals (not real ones). Just to put in front of our U$ 7.00 mirror (yep, garage-sale score).  :) 
Now, our tree:
I found all these sparkling ornaments at TJMAXX.  :)
I was so thrilled. Since they're "neutral", anytime I decide to change the color of the decoration I can keep the "crystals" and only need to add some color with bows or balls (like the red ones). These balls were made by Bill's aunt. Isn't she creative? I totally love them and think they add that special handmade touch.
Here some more pictures:
I just admire it…  :)
Totally dreamy to me.  :)
Here's a link to some of my Inspirational Parties!
This post is on The Lettered Cottage Blog, Southern Hospitality Blog, Very Merry Vintage Style Blog, Centsational Girl Blog and Thrifty Decor Chick Blog!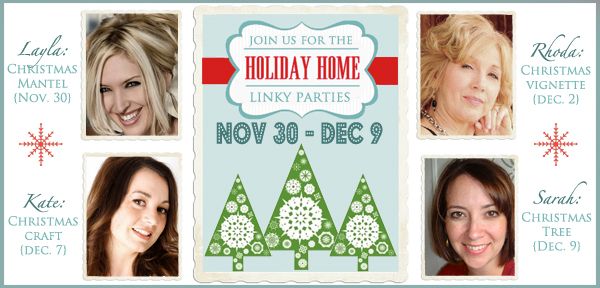 ~~~~~
Brazilian Portuguese Translation
Oi, pessoal!
 Quer ver nossa decoração de Natal?  :)
Para a lareira, queria um efeito de simplicidade e delicadeza mas com elegância.
Inspirada pela amada Pottery Barn, podei um pouquinho da árvore de Natal e coloquei os pequenos cabinhos por cima da lareira, peguei uma casinha de passarinho (de garage-sale), estrelas-do-mar e corais, uma garrafa antiga de leite (da loja Goodwill), umas luzinhas e voilá. Pronto. Simples assim.  :) 
Esta guirlanda é um achado da TJMAXX: fofinha com delicados cristaizinhos (artificiais). Só para colocar na frente do nosso espelho de U$ 7.00 (sim, garage-sale score).  :) 
Agora, nossa árvore:
Achei estes ornamentos de Natal na TJMAXX.  :)
Fiquei tão animada! Como eles são "neutros", qualquer momento que decidir mudar a cor da decoração, posso manter os "cristais" e só preciso acrescentar cor com laços ou novas bolinhas (como as vermelhas). Estas bolinhas foram feitas pela tia do Bill. Ela não é criativa? Amei totalmente e acho que elas adicionam aquele toque especial de serem feitas à mão.
Mais fotinhos:
Eu só admiro…  :)
Um sonho para mim.  :)
Aqui vai um link de algumas das minhas Inspirational Parties!
Este post está nos blogs The Lettered Cottage, Southern Hospitality, Very Merry Vintage Style, Centsational Girl e Thrifty Decor Chick!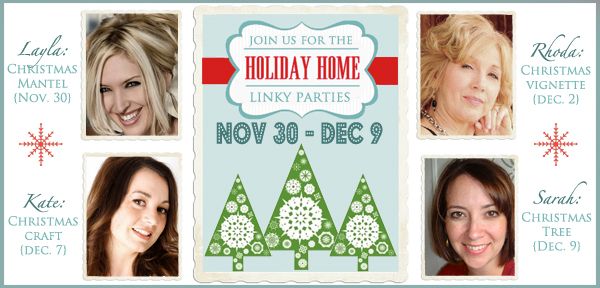 &nbsp Other Inspirational Posts: